If you've been on any social media platform today you've probably heard people ranting about bacon. Not in the traditional "I love bacon" kind of way but in the more frenzied "help the sky is falling in" kind of way. Processed meats are the new food to hate. The New York Times reports
"An international panel of experts convened by the World Health Organization concluded Monday that eating processed meat like hot dogs, ham and bacon raises the risk of colon cancer and that consuming other red meats "probably" raises the risk as well. But the increase in risk is so slight that experts said most people should not be overly worried about it.

The panel did not offer specific guidelines on red meat consumption. But its conclusions add support to recommendations made by other scientific groups like the federal government's dietary guidelines advisory committee, which has long discouraged the consumption of red and processed meat."
If you care to read on it also says
The report placed processed meat into its Group 1 category, which means the panel found "sufficient evidence" that it could cause cancer. While other substances in this group include alcohol, asbestos and tobacco smoke, they do not all share the same level of hazard. The risk attributed to smoking, for example, is many orders of magnitude greater than the risk associated with eating red meat, said Dr. John Ioannidis, the chairman of disease prevention at Stanford University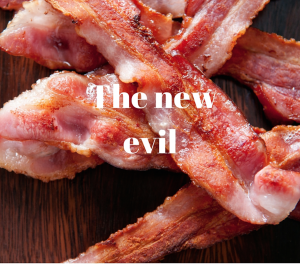 But that won't be the take away. The take away from today's meat news will be that bacon causes cancer because that's how the masses will translate it. In bite sized carcinogenic pieces. People won't listen to their doctors or their dieticians or rely on common sense to read the full reports, they will listen to the hysteria online. Just like so many of us have done about sugar. Even smart, thinking people will be crying "eating bacon is like smoking cigarettes" just like reasonable people are shouting that all sugar is evil
The outrage over sugar is at an all time high, not because of what doctors or dieticians or even scientists say but because of celebrities who have shunned sugar and people who have followed in their footsteps shouting their approval (usually with an element of smug satisfaction). Sure the World Health Organisation has released updated guidelines encouraging people to halve their daily sugar intake but they state that it is a means of combating obesity and tooth decay. Yup obesity and tooth decay, not because it is the devil and a poison as many people would suggest. They have also not suggested that you eliminate it completely. After all the brain uses glucose to work, your body actually needs some sugars (unlike bacon – the body does not need bacon).
I'm not saying that lollies and soft drinks are good for you. Far from it. But I am surprised how quickly we quote the words of documentary film makers, bloggers and authors to cite health concerns.
The SMH reports on That Sugar Film
As propaganda, That Sugar Film is often powerfully effective, going in especially hard against soft drink manufacturers, and exposing some of the dubious claims of the health food industry (though this latter theme could have been pursued further).

What limits the film is that its central method of argument is unscientific by definition, despite the facts and figures provided by a slew of presumed experts. Simply put, Gameau's one-man experiment is not rigorous enough to prove anything at all, however striking his results seem.
It baffles my sugar laden brain that people who shout out against anti-vaxxers because of their lack of scientific research, then claim that they know everything about sugar from a movie or a blog post. And of course the people who feel better eliminating sugar are joining the bandwagon believing that if they feel better the evidence is in, that's all they need.
While I try to reduce added sugars for my diabetes condition (although my endocrinologist did tell me not to cut out sugar but pare back on processed carbs) I can't understand the intense postulating and proselytising over getting people to give up sugar. More than the fact that most of the anti-sugar propaganda you are hearing comes from celebrities or blog posts, it just seems like such a first world problem. Imagine people in impoverished countries worrying about fructose. Imagine people living on the bread line thinking about processed vs organic food. Quitting sugar is expensive. And it's a privileged person's issue.
Plus you do have to wonder about cutting out all sugars in kids diets and if and how it will affect brain development… I don't know about that because clearly I am not a scientist, but it does make me wonder.
I'm all for creating a bit of fear mongering around bacon, but that's because pig farming is often a very cruel practise, not because I know anything about the carcinogens in bacon. But trust me, someone will pick up this post and derive from it that bacon is like sugar and sugar is evil therefore vegetarians shouldn't eat sugar. Because that's how health information seems to get passed on online.
Share and Enjoy